Tragedy in Las Vegas : UCF Counseling and Psychological Services (CAPS) is deeply saddened by the tragedy in Las Vegas, Nevada on October 1, 2017. We recognize that this could be a very difficult time for many of our students who are from that area or know others who are from there as well. We want you to know if you or other students are experiencing distress related to this event, or if this event triggered memories of other tragedies in your life, CAPS is here to provide a safe and confidential environment to discuss this with a counselor. If support is needed, please contact us at 407-823-2811 or stop by during business hours.  After hours, press#5 for immediate assistance to talk to a therapist.  Also, you are encouraged to utilize our free on-line service TAO Self Help and our handouts for additional support.
Therapist Assisted Online (TAO) Treatment
What is Therapy Assisted Online (TAO) Treatment?
TAO is an interactive, web-based program that provides assistance to help overcome anxiety, depression, relationships/communication, and substance use concerns.
TAO is based on well researched and highly effective strategies for helping the above concerns.
In TAO, clients will watch videos, complete exercises, will meet with a therapist via videoconferencing for a 10-15 minute appointment, weekly.
Clients can also keep track of moods and progress through client logs in their account.
TAO users have access to a Mindfulness Library, which can be used for relaxation.
Weekly exercises take up to 2 hours to complete, split up as you prefer to work.
Interested in learning more?
Click Image for Informational Video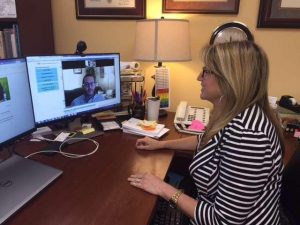 Who is eligible for TAO Treatment?
Currently enrolled students.
Students 18 years of age or older.
TAO treatment requires a short screening with a TAO therapist prior to starting the service.
How do I sign up for TAO Treatment?
Call or walk in to Counseling and Psychological Services (CAPS). Let them know you are interested in TAO and would like to schedule an initial appointment to get started.
If you are already seeing a therapist, tell them you are interested in TAO Treatment.
Benefits of TAO Treatment:
TAO allows you to get effective treatment when your schedule, or life, makes it hard to get to CAPS.
You will have access to highly effective therapy modules 24/7 and a dedicated time to meet online with your therapist each week.
The most recent research shows this treatment model shows progress equal to or exceeding face-to-face therapy.