Groups
---
About
CAPS offers focused groups and workshops throughout the academic year.
Groups typically begin a few weeks into the semester and are free. Enrolled students can meet with a counselor to discuss group options and be referred to a pre-screening with the group facilitator(s).
Fall 2017 Groups
Any enrolled student may attend our free workshops, and no pre-registration is necessary. All workshops use a sign–in process and seating is limited in the CAPS group therapy rooms.
Fall 2017  Finals Workshops:
Monday 11/27 at 12      Mindfulness Monday
Tuesday 11/28 at 4      Take Charge of Social Anxiety
Monday 12/4 at 12       Take Charge of Test Anxiety
Wednesday 12/6 at 1   Bodhi Time w/the CAPS Therapy Dog
Wednesday 12/6 at 3  Take Charge of Test Anxiety
Fall 2017  Workshops
Inquiries about groups or workshops can be made by contacting Robert Dwyer, LMHC, Group Coordinator, at 407-823-2811.
---
Spring 2018 Therapy Groups
Group Descriptions Click Here
DBT Group Homework Click Here
DBT Diary Card Click Here
---
Fall 2017 Workshops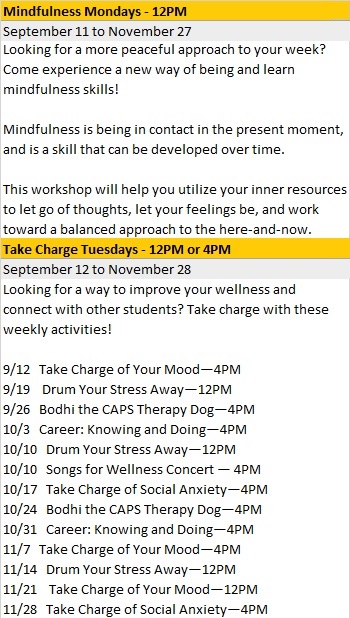 Workshops Flyer Click Here
Past Workshop Resources