Therapy Assistance Online (TAO) Self Help
---
 What is Therapy Assistance Online (TAO) Self Help?
TAO is a self-guided interactive, web-based program that provides assistance to help overcome anxiety, depression, and other concerns. TAO is based on well researched and highly effective strategies.  The TAO experience encompasses viewing short, helpful videos, taking part in brief exercises, using logs to track your mood and progress, and having access to a Mindfulness Library of relaxation videos.  TAO has two modalities. One is treatment mode that consists of check-ins weekly with a therapist through videoconferencing (need to be a CAPS client). The other way to do TAO is to be self-guided and to do it on your own.  If you want more information on TAO treatment with a therapist click here: https://caps.sdes.ucf.edu/tao/  .  If you want to do this on your own, keep reading. 
Click the image below to watch a video and learn more about TAO Self Help!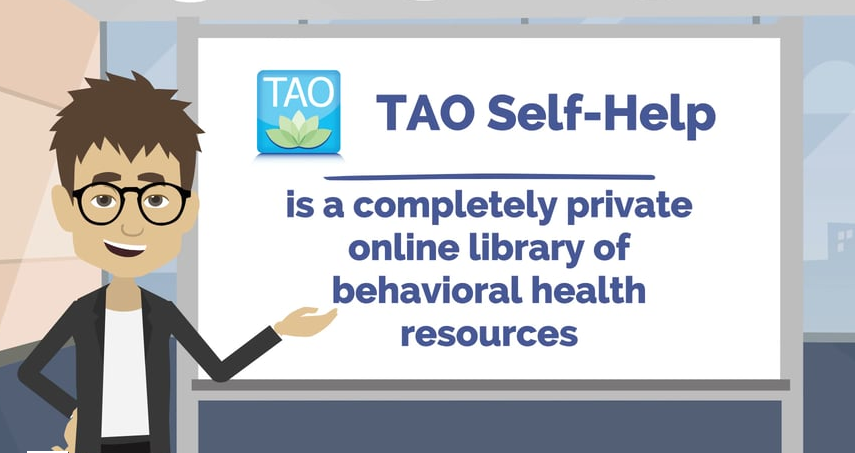 Who is eligible for TAO Self Help?
All UCF students (and UCF staff and faculty) are eligible for TAO Self-Help. You just need a UCF or Knights email address. TAO self-help is a great choice if you would like help, but you either don't have time to come to CAPS or you want to learn at your own pace.
Benefits of TAO Self Help:
You will have access to highly effective therapeutic modules 24/7.
You can sign up any time of day or night, and without having to travel to Counseling and Psychological Services (CAPS).
Immediate access to helpful information.
Highlights of the modules:
Anxiety: relaxation strategies, analyzing thoughts, mindfulness, facing fears, lifestyle factors
Depression: traps, problem solving, focusing on thoughts, mindfulness, values, relationships, lifestyle
Substance Abuse: making decisions, cravings, social support, lapse and relapses, finances, time management
Relationships and Communication: anger, communication styles, problem solving
How do I sign up?
Signing up for TAO Self Help is easy!
Follow this enrollment link:https://us.

tao

connect.org/login
Enter your UCF email address, enrollment key, and other basic information.

For UCF Students, enter: #TAOhelps11
For UCF Staff and Faculty, enter: Help44Helper!

Your enrollment key is entered only once, upon registering.
Agree to TAO services.
Check your UCF email to finish your account set up.
You can also take this self-assessment for more guidance on which pathways would be helpful for your needs: https://thepath.taoconnect.org/local/screening_instrument/survey.php?university=1
Now, you have the freedom to explore the TAO modules at your leisure and when you have time in your schedule.
Mindfulness Library is FREE for everyone!
Due to the COVID-19 pandemic, TAO has decided to make our Mindfulness Library free for everyone. Please feel free to share with family, friends, or anyone else who might benefit from enhancing their mindfulness practice. All exercises are available in both English and French: https://www.taoconnect.org/mindfulness-exercise/
For further questions about TAO Self Help, you may contact TAO at support@taoconnect.org.