Kognito
---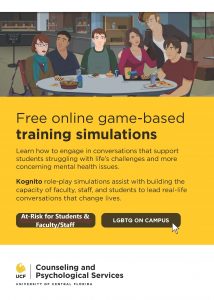 Kognito is a set of role-play, avatar modules to educate faculty, staff, and students about mental health and suicide prevention *(Which we know supports improved academic performance, student retention, and campus safety.) It is an aviator/simulation online tool that allows users to enter a virtual environment and engage in role-play conversations with emotionally-responsive virtual humans. Through practice and receiving personalized feedback, users learn and assess their competency to lead similar conversations in real life. Key models and techniques include motivational interviewing, shared decision-making, emotional self-regulation, empathy, empathic accuracy, and reappraisal strategy. Key learning and assessment principles include hands-on-practice, contextual learning, personalized feedback, storytelling, and case-based approach.
How Can Kognito Help You?
Increase knowledge and awareness about mental health and suicide
Identify warning signs of psychological distress, including verbal, behavioral, and situational clues.
Lead conversations with students to discuss concerns, build resilience, and increase connectedness.
Assess the need for referral, motivate the student to seek help, and make a warm hand-off to support
Understand the school's specific process for student referral and counseling services
Take The Trainings:
Using a desktop, laptop, or compatible mobile device sign on to the internet using Mozilla Firefox or Google Chrome.
Go to: https://ucf.kognito.com/
Select "Click here to sign in." and sign in using your UCF account.
Follow the on-screen instructions.
Select the desired course and click "LAUNCH"
If you experience any issues, please contact support@kognito.com with a description and screenshot of the error.
Help make UCF's  campuses safer, more supportive environments for all.