Therapy Assistance Online (TAO) Treatment
---
What is Therapy Assistance Online (TAO) Treatment and how is it different to TAO Self-help?
TAO is an interactive, web-based program that is well research and highly effective in providing assistance to help overcome anxiety, depression, and other concerns, and is available to you through TAO self-help to you now.  TAO Self-Help page
The main difference between TAO Self-Help and TAO Treatment is the ability to video-conference with your CAPS therapist.
If your therapist thinks that doing the TAO treatment by itself, or in conjunction with your current therapy would be helpful to you, your therapist will assign it and register you for the video conferencing.
In TAO, students watch videos, complete exercises, and if you are a current CAPS client, and you are in TAO treatment, you will meet with a therapist via videoconferencing for 10-15 minute appointment, weekly.

Clients can also keep track of moods and progress through client logs in their account.
TAO users have access to a Mindfulness Library, which can be used for relaxation.
Click Image for Informational Video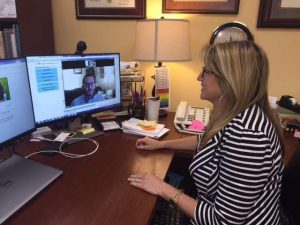 Who is eligible for TAO Treatment?
Currently enrolled students who are current CAPS clients.
TAO treatment requires an initial assessment by a CAPS therapist.
How do I sign up for TAO Treatment?
Call or walk in to Counseling and Psychological Services (CAPS). Let them know you are interested in TAO and would like to schedule an initial appointment to get started.
If you are already seeing a therapist, tell them you are interested in TAO Treatment.
Benefits of TAO Treatment:
TAO allows you to get effective treatment when your schedule, or life, makes it hard to get to CAPS.
You will have access to highly effective therapy modules 24/7 and a dedicated time to meet online with your therapist each week.
The most recent research shows this treatment model shows progress equal to or exceeding face-to-face therapy.
TAO can also be a great enhancement to your current individual or group therapy.
Mindfulness Library is FREE for everyone!Due to the COVID-19 pandemic, TAO has decided to make our Mindfulness Library free for everyone. Please feel free to share with family, friends, or anyone else who might benefit from enhancing their mindfulness practice. All exercises are available in both English and French: https://www.taoconnect.org/mindfulness-exercise/